This extreme gaming PC build will bring all the gamers to the yard, just to get a peep at it. Its carefully selected components will devour AAA games at 4K, and with settings maxed out, but it wont to be cheap. It harbours the best CPU for gaming, along with the best graphics card, so you can expect to pay a premium for those in this day and age.
This $4,000 extreme gaming PC build will give you high performance. If you're simply looking for an above-average build that gives the best frames per dollar value, check out our high-end PC build guide instead. And you can always consider a smaller SSD or slower RAM.
The final price here doesn't include accessories or peripherals, so take into account how much you're going to spend there. In particular, consider nabbing a good gaming monitor as you'll need one to make the most of this build. No point picking a fancy new graphics card if your monitor can't support the frame rate or the high resolution that's being cranked out.
After rigorous testing across the board, this list brings together all the best PC gaming components we could get our hands on, with zero regards to expense. Here's our shamelessly powerful gaming PC design.
Best gaming monitor | Best gaming mouse | Best gaming keyboard
Best gaming headset | Best gaming router | Best gaming chair
Extreme gaming PC build
CPU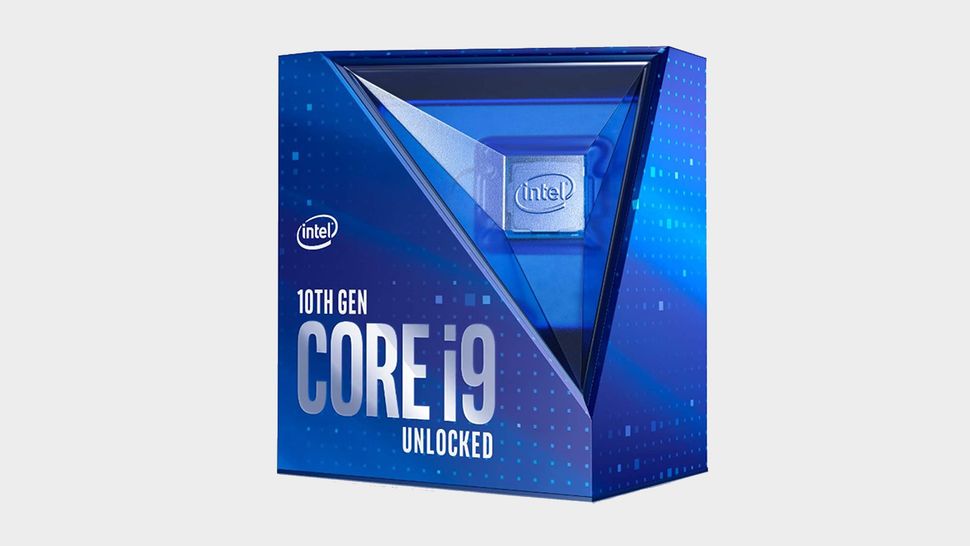 The Intel Core i9 10900K is no longer the world's fastest gaming processor, but the newer Core i9 11900K is not one we would recommend to anyone looking to build an extreme gaming PC. You could argue that the AMD Ryzen 9 5950X is more deserving of a place in an extreme PC build thanks to its 16 cores and 32 threads of processing power, but it can still be tricky to find in the wild so Intel's top CPU is still your best option.

Intel's historic gaming performance lead is still intact, if only just, and the 10900K, with its 5.3GHz all-core overclocking chops, is still the king when it comes to pure frame rates. You'll need a decent motherboard, some serious cooling, and a powerful PSU to get the most from it, but that's what this build is all about.
Here are the best CPUs for gaming right now.
Motherboard
If the CPU is your new PC's brain, the motherboard is the nervous system and other vital organs that keep things running smoothly. Skimp on a motherboard at your peril.
The Asus ROG Maximus XII Extreme employs the Z490 chipset, which means it's primed to handle Intel's 10th gen processors. There are no less than four M.2 slots for you to play around with, two on its ingenious DIMM.2 riser board, and it also offers up support for Thunderbolt 3 on another add-in card with two mini DisplayPort connectors.
On top of that, you get access to cutting-edge networking goodness, too, including 10Gbps and 2.5Gbps Ethernet as well as Wi-Fi 6 (aka 802.11ax) wireless connectivity. There are tons of USB ports, and, of course, its RGB lighting works with a bunch of Aura Sync compatible peripherals.
If you want more options, then check out our list of the best gaming motherboards.
CPU Cooling
This rig has a beastly CPU, and yes, it needs overclocking. Liquid cooling is highly recommended when you're trying to get the most out of Intel's unlocked enthusiast chips, and the 10th Gen Core i9 processors require it.
The NZXT Kraken X62 is an impressive piece of kit and works with all major platforms. It's reasonably easy to install and features a large 280mm radiator with a pair of 140mm fans. Once everything is installed, having a small water block on your CPU instead of a massive air cooler makes things look much cleaner. You'll need a large case capable of housing the radiator, naturally, which we already took care of above.
But even with the X62, you may run into thermal limitations. If you're serious about pushing the i9 10900K to its limits, you'll want to consider going with a fully custom liquid cooling loop. That's beyond this buying guide's scope, but know that even a good AIO cooler likely won't allow maximum overclock with the i9 10900K.
Graphics Card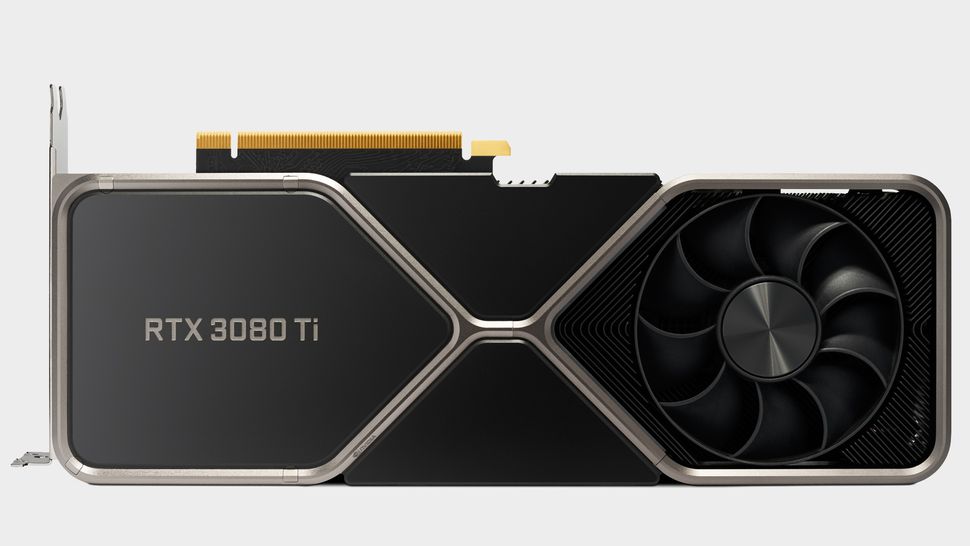 The GeForce RTX 3080 Ti essentially offers the same gaming performance as the RTX 3090 but costs $300 less. Even here, with our extreme build, we can't help but keep a vague eye on value for money, and with the release of the 3080 Ti, Nvidia has basically retired the RTX 3090 when it comes to gaming. The RTX 3080 Ti is still a $1,200 graphics card, and that's if you net the Founder's Edition and not a pricier third-party job. It's hardly a budget option.
The only reason you might want to track down an RTX 3090 still is if you want to pair up your graphics cards, as at least for Nvidia Ampere, the RTX 3090 is your only option for dual-GPU action. Even with that installed, you'll still have to worry about whether the games you play will use both GPUs. Hint: most don't, and support is only dwindling further as time marches on.
Comparisons to the RTX 3090 aside, the key consideration for the RTX 3080 Ti is that it is a supremely capable card for 4K gaming. Even ray tracing is on the table, especially if you're happy to turn on the modern magic that is DLSS 2.0—framerates are smooth, and the final image quality stands up to scrutiny without issue.
Here are the best graphics cards you can buy right now.
Memory
You could put more memory into this build (up to 64GB), but 4x 8GB DDR4-3200 is more than sufficient for gaming. There are many memory options, and speed is more about bragging rights than actual performance, but we love the look of G.Skill's TridentZ RGB sticks. RAM prices have been dropping lately, which means a 32GB kit can be had for well under $200.
Besides G.Skill, we recommend Corsair, Kingston, HyperX, Crucial, Adata, and Team as safe picks. RAM has reached the point where most modules work well, so it's often a question of price—and color, if that's your thing—rather than minuscule performance differences. Higher clocked DDR4 might add a percentage to the overall performance, but the money is usually better spent on a faster CPU or GPU or a larger SSD. Unless you're going for record overclocks, in which case, go nuts on the fastest DDR4 you can find.
Need other options? Here's the best RAM for gaming in 2021.
Storage
We've been pretty scathing about QLC SSDs in the past, even recently with Samsung's 870 QVO, but it seems that if you match the cheapest, slowest form of SSD memory with a high capacity and an M.2 interface, some magic happens. The Sabrent Rocket Q 4TB drive packs a huge amount of storage into an SSD the size of a stick of gum and still maintains performance on par with MLC drives.
The Sabrent is not quite as bandwidth-friendly as some other PCIe 4.0 drives, but without platform-wide PCIe 4.0 support on our chosen combination of CPU and motherboard, that speed would only go to waste.
The Sabrent's speed and capacity mean you can have a fast, capacious SSD boot drive without having to pick a slower option for data storage. If you're capturing a lot of footage or want to have all your games installed at any one point, the Sabrent Rocket Q is a genuinely impressive drive.
And if you want to go all out, there's the similarly spectacular Sabrent Rocket Q 8TB drive too. Though that is around $1,400 for the privilege...
These are the best SSD for gaming options right now.
Power Supply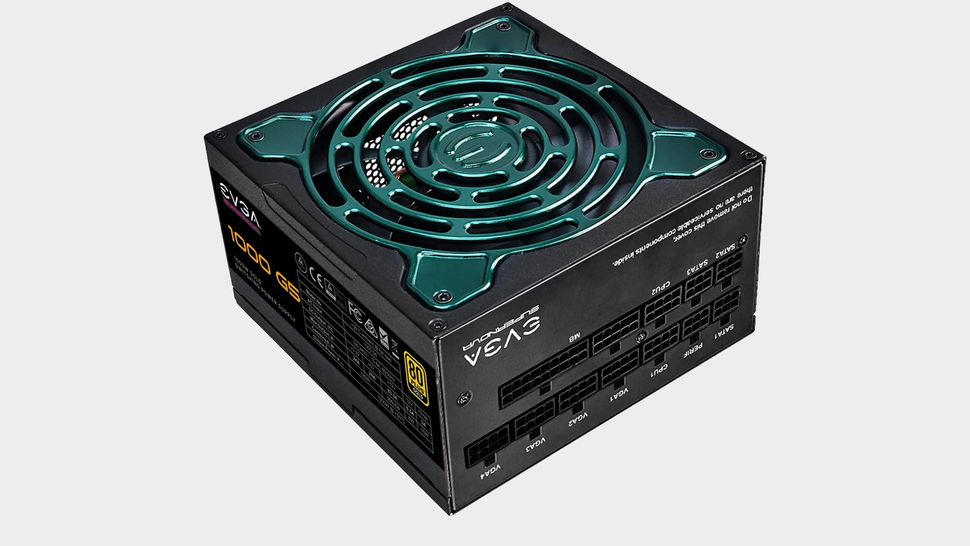 A wise man once told us never to underestimate the power of the dark supply. Or something like that. The point is, you don't want a crappy PSU taking down the rest of your rig, and when you're putting together the best PC possible, that means getting an equally bodacious power supply.
The EVGA SuperNova 1000 G5 is a great option to build an extreme rig around when it comes to power supplies. If the name hasn't given it away already, this sucker offers up 1000W of power for your extreme build to turn into super-smooth gaming experiences. And you'll need most of that, as the i9 10900K and Z490 motherboard can draw a hell of a lot of power under load, and the RTX 3080 Ti is no wallflower either—and power draw only goes up if you run the CPU and GPU overclocked, which is the point of an extreme build.
If you only plan to run a more modest GPU, or a lower-tier CPU (like the i7 10700K), EVGA's SuperNOVA 850 T2 is a great alternative that will save some money. If you want to save even more, the SuperNOVA 850 P2 costs about $50 (£50) less and is every bit as good. But saving money isn't the objective here.
Need more? Here are our best power supply units for PC.
Case
Image 1 of 6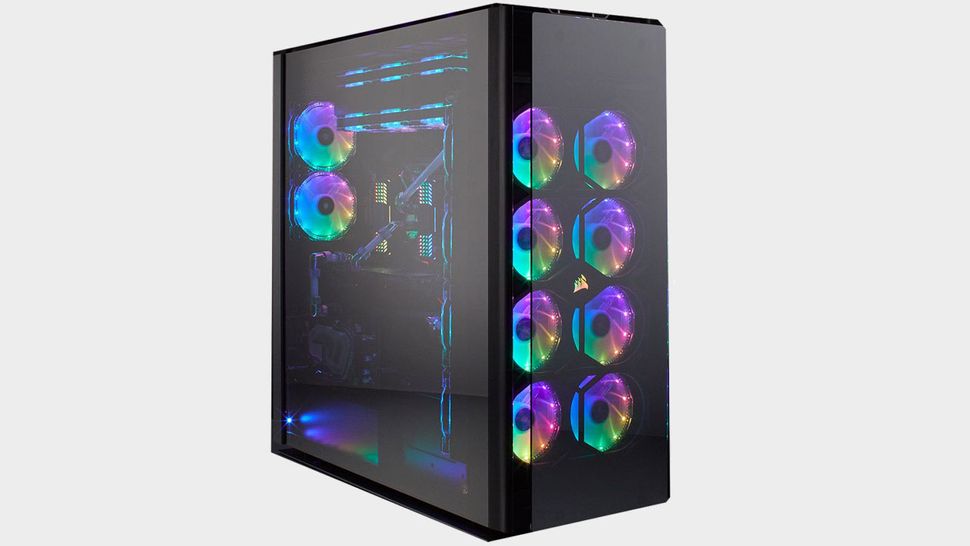 Image 2 of 6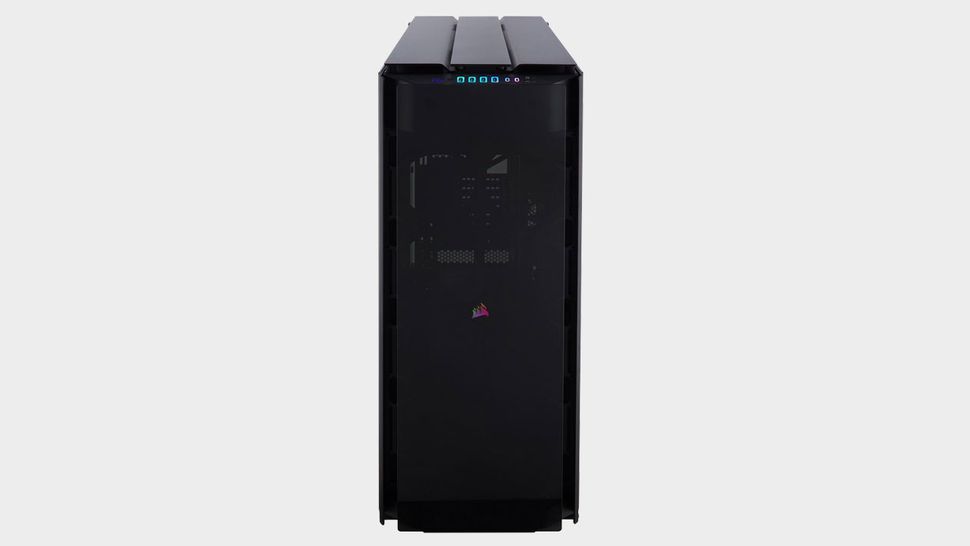 Image 3 of 6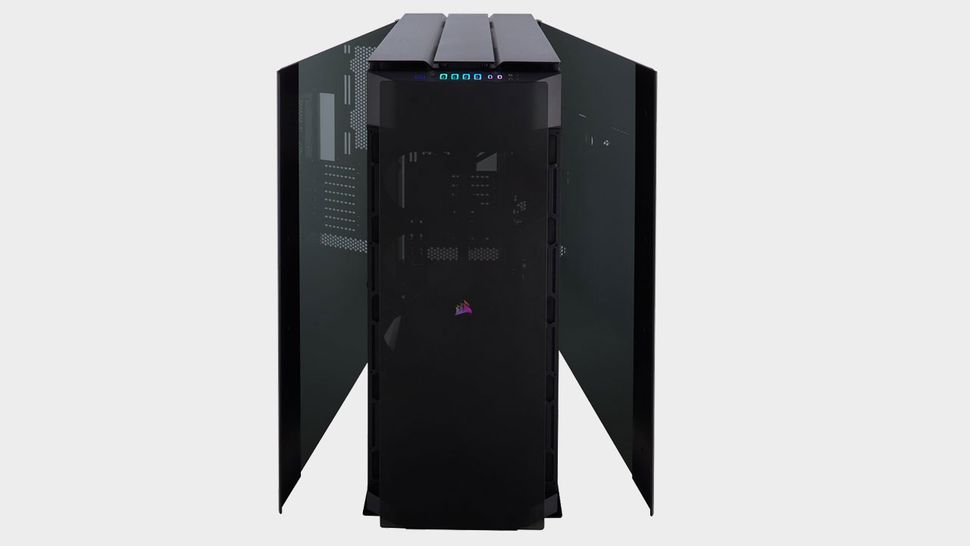 Image 4 of 6
Image 5 of 6
Image 6 of 6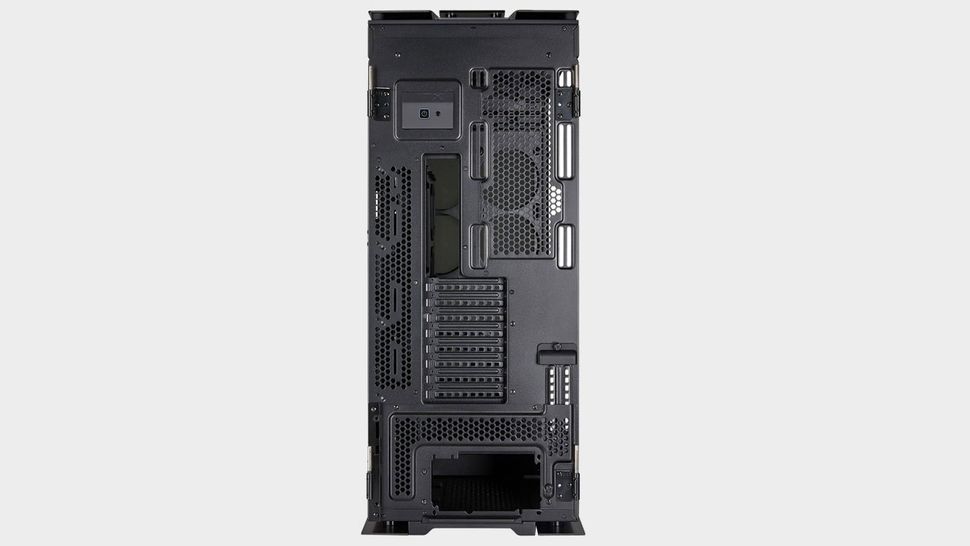 The Corsair Obsidian Series 1000D is a behemoth of a PC case ready to house the biggest and baddest systems. Standing tall at a staggering 27.3-inches, this "super-tower" boasts enough space to house 18 fans and up to four massive radiators installed simultaneously.
The 1000D features a unique triple-chamber design with convenient French-door-styled storage compartments and telescoping radiator trays for easy installation in addition to the stellar cooling support. Because it is 2021, of course, there is also an RGB lit front panel I/O with built-in smart lighting and fan control courtesy of Corsair's integrated Commander Pro controller.
The Obsidian 900D has long been a top choice for massive, over-the-top builds, and it only fits that the 1000D was designed to knock it off its throne.
Don't want to build?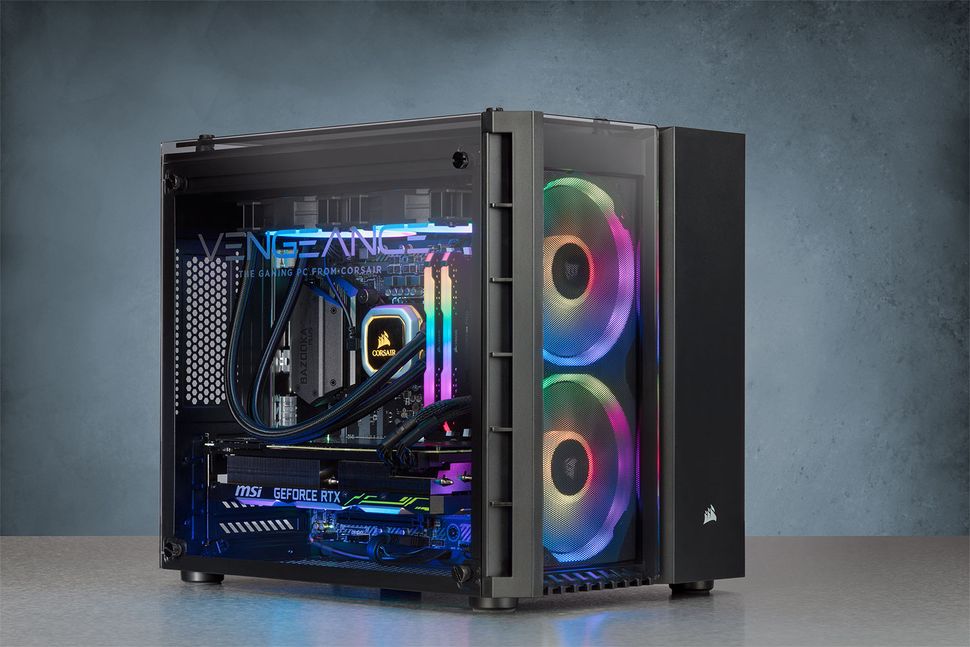 If PC building isn't part of your skillset, look at our guides for the best gaming PCs and best gaming laptops that can give you the most bang for your buck and save you a headache.
Extreme Gaming PC - the full build
Extreme gaming PC build FAQ
Should I build my own extreme gaming PC?
One thing to consider: With the component supply chain in shambles at the moment, CPU and graphics card stocks are sparse. You might want to consider picking up a pre-built system if you're after the best gear. Otherwise, if you're determined to build it yourself, and manage to spot some available stock of a like-for-like product, go for it.
Handling the high-end components of an extreme gaming PC can be daunting, especially if this is your first PC build. Have a look at our guide on how to build a gaming PC before you jump in to ease your worries.
Is it cheaper/better to build my own gaming PC?
Generally, manufacturers of pre-built gaming PCs will add an extra service charge on top of the cost of the components, but it's possible to find a good deal every now and then. Just make sure you double check, don't take their word that it's a good deal.
We recommend building your own, though, for that feeling of ultimate satisfaction when the fans whirr to life and the splash screen seems to whisper "Good job, mate. You didn't mess it up."
Of course, if you rush or botch the job, building your own PC could result in some expensive mishaps. Handle your components carefully, and it's sure to be a much more rewarding, intimate experience than just buying one someone else has put together. And you'll probably save some dollar, too.